I was delighted to discover that here in the Peak District there is a brand new cosmetic company, Taylormay Botanicals. Taylormay Botanicals make their products from wholesome ingredients including Soil Association approved essential oils.
So as you can imagine I was eager to contact Taylormay Botanicals and get my hands on some of their products to see for myself just how they would perform on my mature skin.
They were kind enough to send over a samples of their Face Cream & Beauty Balm which can be used in three different ways. As a barrier aid, a nail & cuticle softener and as if that wasn't enough, a hair styling product to help smooth flyaway hair!
For my first review I want to concentrate on Taylormay Botanicals' Face Cream because we all need a little help at this time of year with the ravaging effects of the cold Winter winds and the dry air of our centrally heated homes.
Because I have 50ml samples I cannot pass comment on packaging of the retail sizes but from the images I have seen they look to be simple and well presented, without overly fussing as some more expensive brands do.
After all we want to pay for the contents not the packaging.  Right ladies?
My ideal testing conditions were going to be standing on a high peak out in Derbyshire with the Winter winds howling around my face.
But I had the opportunity to test Taylormay Botanicals Face Cream without having to break a sweat climbing a peak.  I'll explain.
I don't tend to wear foundation very often. Firstly because I often don't have the time to bother and secondly I can't be bothered to apply it with any frequency.  But when I do I find it totally removes any semblance of natural oils from my face and it feels like I've been slapped around my face my skin is so tight.
Having returned from a celebratory Birthday meal I disappeared upstairs to remove my makeup.  As I dried my face it felt tight and quite dry.  It then occurred to me that it was the perfect opportunity to grab my little pot of cream and give it a go.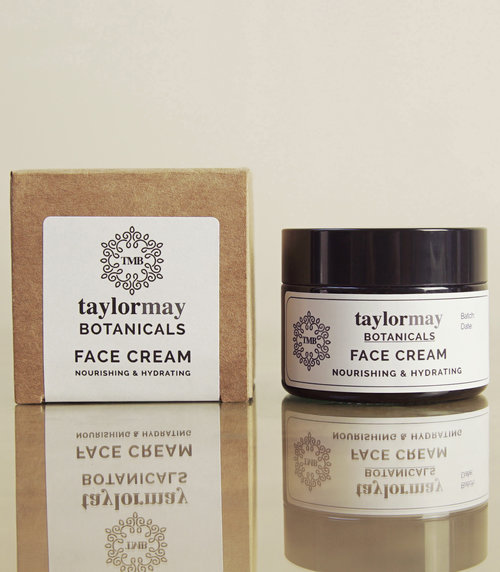 I unscrewed the lid and took a smell of the pot, the TMB Face Cream has a very faint aroma, almost fragrance free.
Dragging my finger over the top of the cream I collect a small amount on the tip which I then applied in thin stripes, like spreading butter over toast to all areas of my face.  Then I began to smooth the preparation in to my skin in gentle strokes.
I would normally be sensing an uncomfortable tingle with my branded creams by now though that normally subsides after a few minutes.  The Taylormay Botanicals Face Cream did not have this effect. Instead rather than my skin feeling irritated, it felt soothed and moisturised.
And now I could smell a very faint aroma of citrus which enhanced the whole experience.
Application didn't take long as my skin seemed to drink in the emulsion, leaving my skin soft without feeling tacky or greasy.
Taylormay Botanicals Face Cream Summary
A pleasant experience compared to my leading brand face cream.  I will certainly be using every last drop of this Face Cream.  I can't wait to give it a try out in the wilds of the Peak District.
Disclosure – This product was provided to us free of charge, Click here for more information about reviews