Pumpkin is very much like a pig. I can hear you all shouting, "what the hell is she talking about, I thought this was a recipe for spicy pumpkin soup?".
Well, you can eat just about everything but the skin which forms part of your Halloween lantern. You can use the flesh to make soup as in this recipe and roast the rinsed and dried seeds once coasted in oil & seasoning in the over at 160 degrees for about 10 minutes. Or until they are golden in colour.
I'm not usually a fan of gourds but this soup is very flavoursome and is perfect on a cold Winter's night sprinkled with some toasted pumpkin seed and a slice of fresh bread.
Ingredients
1.5 kg of pumpkin flesh
1 large onion
3 Cloves of garlic
1 medium carrot
1 celery stick
1 litre of vegetable stock
1 tbsp cumin seed or ¾ tbsp if ground
¾ tsp of dried chilli flakes or more if you like more heat (well it is spicy pumpkin soup). I'm a bit of a wuss when it comes to chilli
Olive oil
Salt & pepper
Preparation
Preheat your oven to 170 degrees.
Scrape out the flesh from the inside of your pumpkin and remove the soft membrane from around the seeds. Discard the sloppy membrane (pumpkin strings) and wash & dry your seeds ready for roasting alongside your pumpkin flesh.
Grind up your cumin seeds & chilli flakes.
Cut the pumpkin in to wedges and place in a large baking tray. Using a silicone sheet or non-stick tray is a good idea to ensure the pumpkin slides off when it's cooked as the sugars in it caramelise on the edges during cooking
Cover with a sprinkling of olive oil & add your ground cumin & chilli along with a light sprinkle of salt & pepper.
Place the pumpkin in the oven for about 1 hour or until you notice the edges turning brown and the flesh is soft when poked with a fork. Give your pumpkin a stir around about every 15 minutes to ensure even cooking & distribution of spices.

Dry the pumpkin seeds you set aside earlier and sprinkle them on to a baking tray. Cover with a light drizzle of olive oil and sprinkle of salt & pepper for flavour. You could add paprika for a little more kick.
Place the seeds in the oven alongside your pumpkin and remove them when they take on a golden colour. This should take about 15 minutes.
Now dice your celery, carrot & onion and add along with a couple of tablespoons of olive oil to a large pan. Finely chop your garlic and add this too
Cook your vegetables over a moderate heat being careful not to brown them for about 20 minutes or until they start to soften. Once cooked remove from the heat.

When your pumpkin looks ready remove from the oven and add to the vegetables in the pan. Now add your stock.
Use a stick blender to bring all your ingredients together and season once again to taste. I usually just need to add a little more salt to bring out the flavours.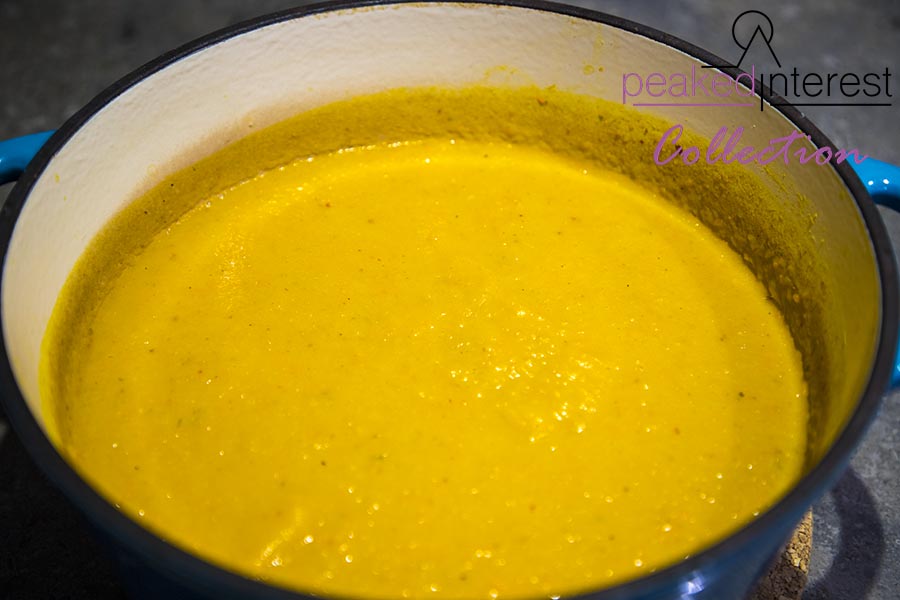 I like to serve the spicy pumpkin soup with a few toasted pumpkin seeds floating on the top to add a bit of nuttiness to the dish.
Things to do while Enjoying your Spicy Pumpkin Soup
Any leftover, uncooked pumpkin leftover from your soup making and pumpkin carving can be chopped and left out for the local wildlife. Don't leave out any cooked produce as this is likely to attract vermin.
If that's got you feeling all autumnal you should take a look at the new products in our online shop. There are lots of seasonal prints to buy.