Stella's Kitchen is one of those places with true character. If someone had said to me "It's a place that serves African cuisine at a cottage in the Peak District between Eyam and Foolow" my reaction would have been "Really?". But why not? If there's one thing that travelling the world has taught me is that you find the most wonderful things in the most unexpected places.
I think you already know this is going to be a positive review. So no need to worry about spoilers where my summing up is concerned. What you perhaps won't realise is why I loved Stella's Kitchen so much.
First some background. Stella lives with her husband and son in a farmhouse on the road from Eyam to Foolow. This eating house is just that, a house where you eat. And it's called Stella's Kitchen because Stella, originally from West Africa, started the enterprise at her kitchen table, feeding her customers in her kitchen. Things have moved on a little since then, for example when we ate at Stella's Kitchen it was in a new conservatory that allows her to cater for more people, yet maintain the intimate environment that her regulars love.
Yes, she does have regulars. We discovered while we were there that at least one couple from our village have been regulars at Stella's Kitchen for years. But it's not just the locals. With us on the evening we sampled Stella's cuisine were a group from Hong Kong. One of whom told us he visited the Peak District once every 6 months and always ate at Stella's when he did.
Why locals and visitors from half way around the planet keep coming back along with the Derbyshire locals is quite simple. From the moment you walk in to Stella's Kitchen you feel welcome and looked after. At one point Stella worked front of house at the respected Fischer's of Baslow, it's nice to note that they have been supportive and encouraging of this, Stella's own culinary venture.
So, here's our experience of Stella's Kitchen.
The path from the gravelled, OK, semi-gravelled car parking next to the road took us past a tough looking farm cat, a cockerel and a guinea fowl. At the door we were welcomed by the quite unique person that is Stella.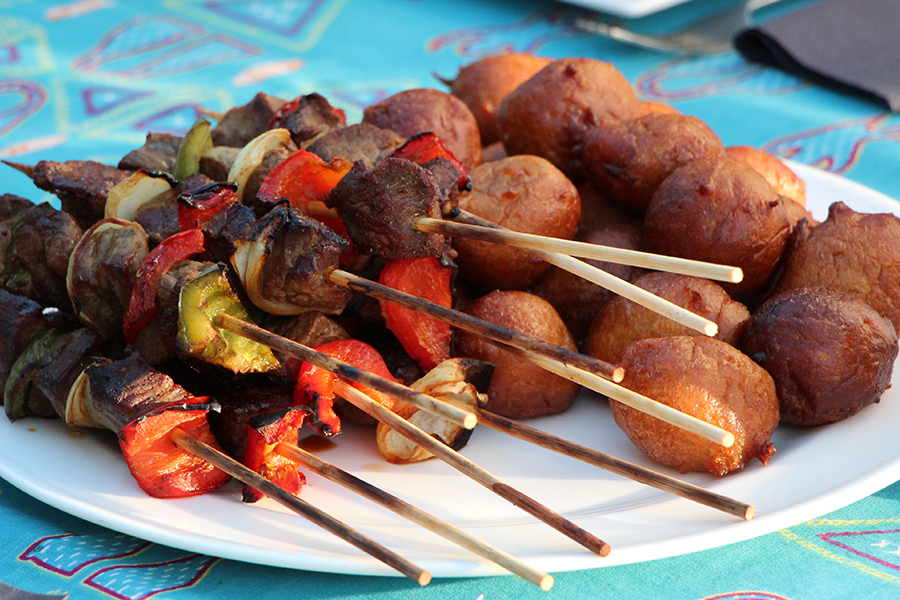 Stella is one of those rare individuals that is truly that, individual. Her warm nature envelopes you as she greets you, her hospitality is genuine. All front-of house staff in the hospitality industry are friendly but Stella's warm welcome comes from the heart. Conversation is easy and not what you'd expect. Stella has a great deal of life experience and a great sense of humour making her the perfect host.
The food in Stella's kitchen is surprising too. All in a good way. She serves breakfast, lunch and dinner, some English much of it African inspired (more info here). We sampled the latter and I can highly recommend it as her buffet style dining experience is great.
We began with mutton kebabs and "Puff puff", deep fried dough balls common across much of Africa in one form or another. They're a popular street food, here served with a choice of hot chilli and sweet chilli dips. Personally I'm in a hot phase, my palette returning to its state in my late teens and early twenties where hot food ruled. I was warned off the hot chilli by Stella, just in case … but I loved it.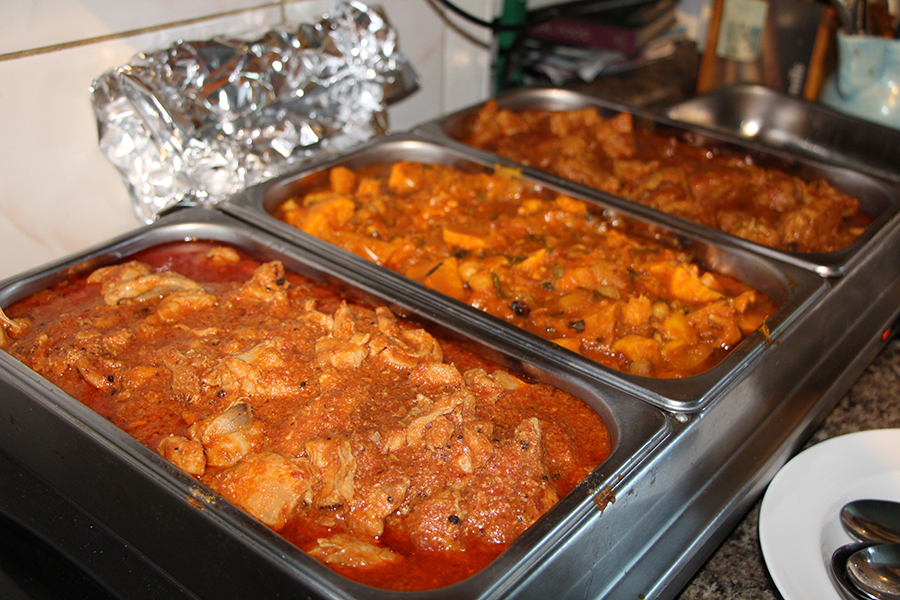 Carol on the other hand played it save with the sweet chilli. Frankly I wasn't sure what to expect, throughout the meal. I probably anticipated more heat and less subtle flavours. What we ate was the sort of food that makes you ask for seconds, and probably thirds.
The main course was as I have mentioned a buffet style, serve yourself affair in the kitchen with vegetable, chicken and mutton curry. Alongside were fried plantain and coconut rice. All of it delicious, all of it packed with flavour and beautifully cooked. Each dish was distinct in flavour and nicely balanced.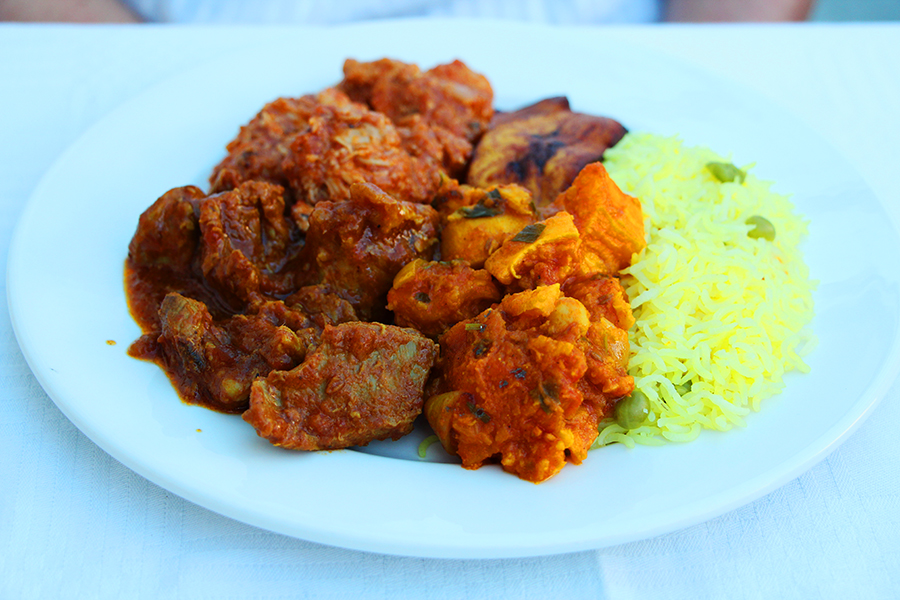 We finished off with banana cake, homemade of course. And guess what, it was marvellous.
We reluctantly left, due to an engagement early the next day while the party from Hong Kong were still enjoying their meal and Stella's hosting.
Stella's Kitchen Good Food And A Warm Welcome
You can keep your chain pubs and same-old food. The Peak District is full of truly characterful eateries and quality food, and you'd have to go a long way to find something as different and at the same time welcoming and comforting as Stella's Kitchen. This is really authentic food made with love and served by one of the most interesting people I've ever met.
Stella's Kitchen is Stella and her cooking. You'll see her husband in the background but when it comes to food Stella's in charge. You'll probably see their tractor-obsessed son too, full of energy and eager to take customers on a tour of the farm as we found out.
You can find Stella's website here.