Overview
Maier Sports
is a manufacturer of high quality sportswear that has been around for 75 years priding itself on their outstanding range of trouser (pants) fits available for men and women.  Not all people are the same size and they celebrate this by offering male trousers in 32 sizes and females 25, so you are assured a comfortable fit.
The trousers have a great medium weight and look both fashionable, comfortable and smart.  Not something which can be said of all walking trousers.
I have exhaustively tested these trousers over a period of months which took in some of the worst weather the Peak District has to offer.  So I can speak knowledgeably about them, even down to laundering, but first.
The most important of all, fit.  Mine fitted me perfectly, not too tight around the backside and not slipping up my most delicate of places.  But at the same time not being baggy at all.
They have slim legs which can be rolled up and buttoned, making a long short for those warmer days.
Offering two zipped side pockets and one on the right upper thigh.  And one small secret zipped pocket suspended from the waistband on the inside of the left leg.  Not sure what to keep in this one yet but I'm sure I will.  😊
Legs can be adjusted to fit to boots at the bottom using the elasticated cuff & toggle.  Good for windy days and in my case to shorten them just a little.  I prefer to have length for movement and to cover my very bright walking socks.
With 2 elasticated side panels the waistband fits comfortably whilst allowing movement.
The fabric is water-repellent even after washing (see I told you I would be able to give you the full low down.)
They dry quickly due to the dryprotec mesh fabric driving moisture to the surface.
Have UV protection to UPF 50+.
Pockets all close with positive sturdy zippers which have easy-grab rubber ends.
Bi-elastic fabric moves with you for assured comfort and fit.
The lightweight woven belt secures your trousers along with double buttoning and is easily secured and undone.
All products in the range are covered by a 5 year warranty against defects in materials and workmanship.
Maier Sports Lulaka Walking Trousers In The Field
I've been seriously walking for about 14 months now and I've been wearing a simple pair of jeggings for comfort and movement.  So the arrival of my first pair of professional walking trousers was quite an exciting moment for me.  Sorry, I can be a bit of a geek sometimes.  Lol
At the same time as being excited I was also treating the concept of "walking trousers" with a little suspicion.  What would they offer me that I haven't already got with my jeggings?
Well, it wasn't long before I found out.
As soon as I zipped up and fastened my belt I knew I was going to be comfortable.  Movement was easy in them and much to my delight they didn't rustle when I walked.
I took them out to do some gritstone edge walking where you need to have flexibility to step between the rocks and also to step down some wide gaps too.
They handled the job perfectly, the 4 way stretch assuring that they moved with me and didn't more importantly put tension on the seams.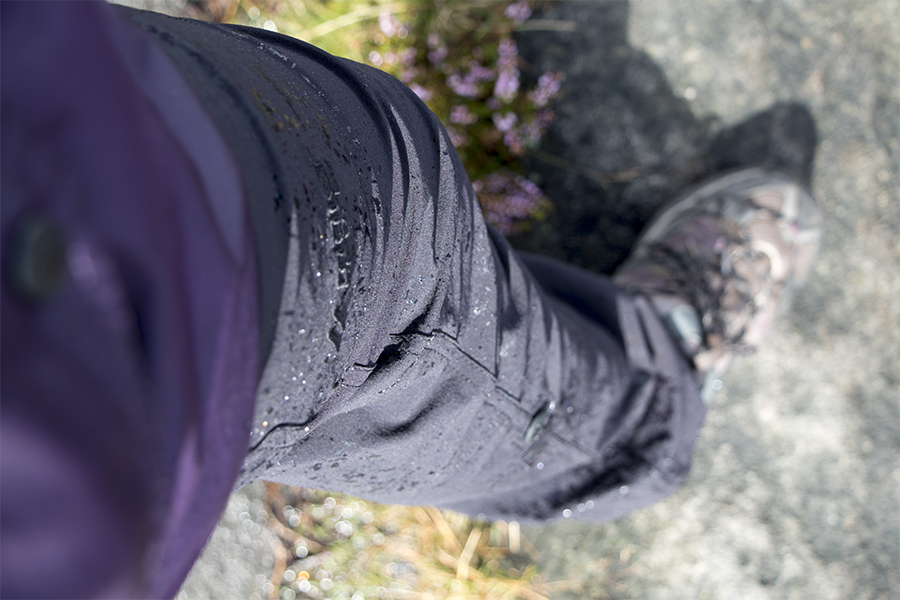 It was on this very edge some weeks later that I was able to put their water repellency to the test.  The day set off fair but then cooked up a storm with skies darkening and rain sweeping across the edge sideways.
The image I took with my camera phone adequately captures the water beading on my legs.  The rain briefly subsided to then turn to hail. The stones just bounced off me and the accompanying wind was well insulated from my legs by my Lulaka walking trousers.
Only minutes later the sun was shining and my trousers were on their way to being dry.  Had these been my jeggings it would have been a whole different story.  I could now see why people invest in a good pair of walking trousers.
Over the months which followed I have worn my Lulaka's every other day and they have served me well and there is no way I will be returning to my old trousers.  They wash really well and don't require much time to dry on the line, and I don't need to get the iron out either.
In my opinion perfect.
I envisage these trousers going on to explore far more over the Winter and I look forward to making the journey with them.