This recipe for Mushroom Risotto will provide two generous helpings and makes a delicious dinner with tuna steak or your favourite fish. It takes roughly 1/4hr to prepare and 1/2hr to cook and is perfect for eating after a long walk.
Risotto has an unfounded reputation for being a difficult dish to make.  It's not, all you need to be aware of is that it needs a watchful eye to ensure that the rice isn't allowed to dry out.  Be attentive and add stock as required and you should get excellent results every time.
Mushroom Risotto – Ingredients
3 x tablespoons of oil
2 x large onions
2 x cloves of garlic
4oz mushrooms (I prefer chesnut as they have the best flavour)
4oz of frozen garden peas
2oz of chopped sun dried tomatoes
1/3 of a tub of cheese spread
4oz grated or thinly sliced parmesan cheese
1ltr chicken or vegetable stock
7oz Arborio rice
6floz white wine
Recipe
Chop the onions in to small squares and the garlic finely.
Place the oil in a large frying pan and place on a moderate heat.
Add the onion and garlic and fry until the onion is softened but not brown.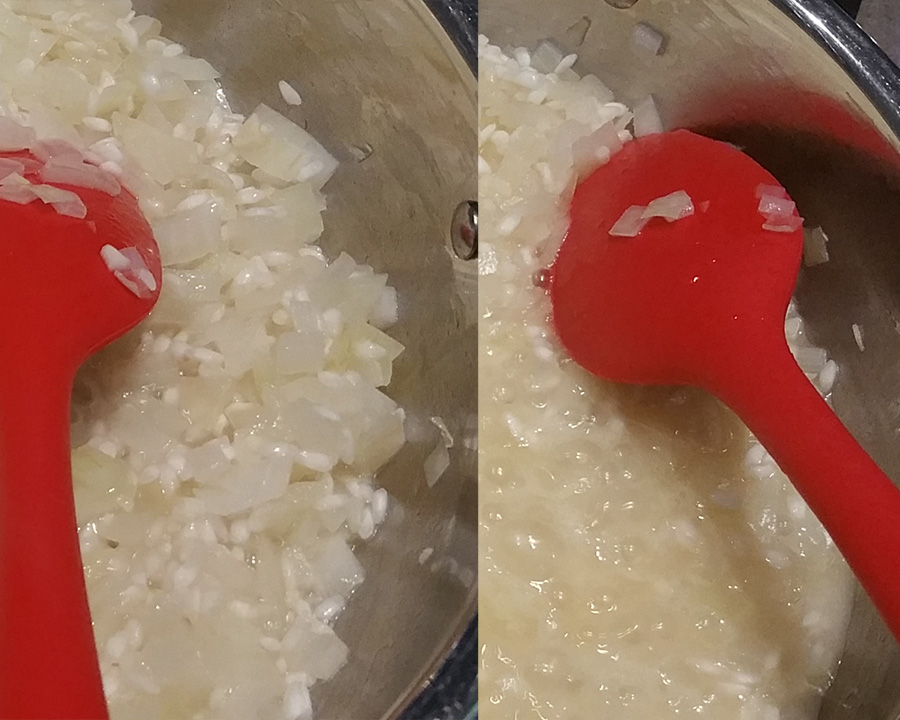 Now add the rice ensuring that you regularly stir the pan to avoid sticking and cook for about 5 minutes.  You will need to regularly stir during the cooking ensuring that the rice doesn't stick.
Pour the white wine in to the pan, reduce the heat and allow the rice to simmer and take up the wine.  Whilst it's simmering make up your litre of stock.
Once the wine has almost gone add the stock a ladle at a time repeating each time the pan is almost dry.
You can now start adding the other ingredients as the rice starts to swell.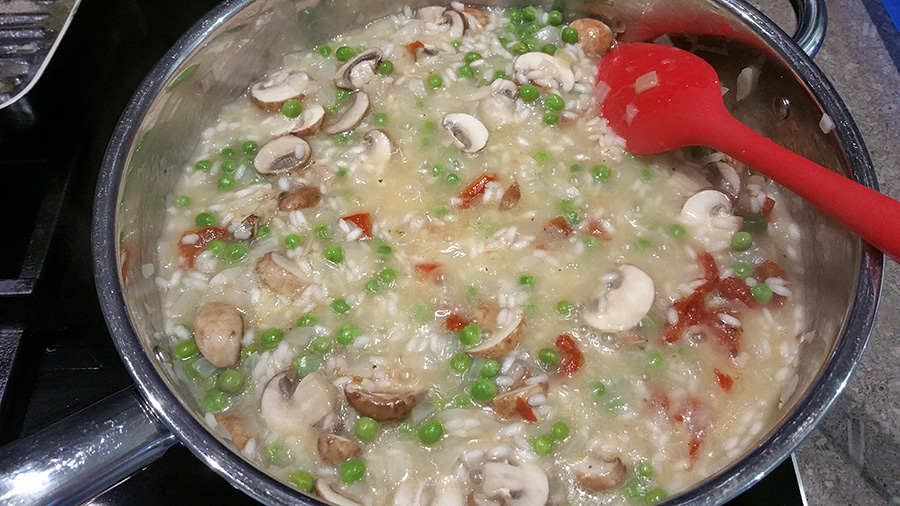 Add the frozen peas and stir, followed by the mushrooms and cook for about 5 minutes.
Stir in the sun dried tomatoes to the pan.
Keep adding a ladle of stock to keep the rice from sticking.  You will find that most of the litre of stock will be used during cooking.
The risotto is ready when the rice has swollen to double its original size and is softened.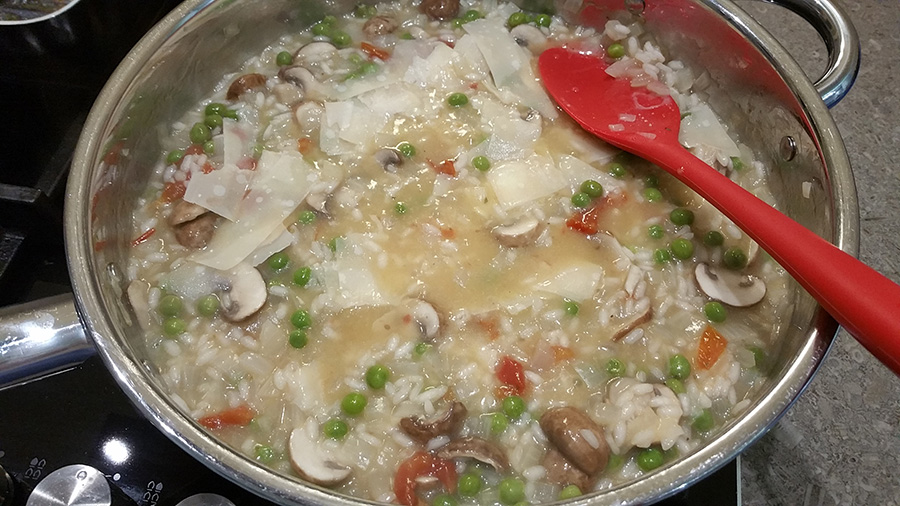 Finally add the parmesan cheese and cheese spread and stir well through the risotto and it should take on a creamy white texture.
Remove from the heat and serve – for example with seared tuna and a little dill.