David and I were given a warm welcome on our arrival at Café Adventure by the owners Billy & Rachel. The couple have owned the Café Adventure for two years this coming June (2017).
They both come from a catering background, Rachel worked in the kitchen at Chatsworth House and Billy as the Sous Chef. The couple met 6 years ago and seem to complement each other's skills.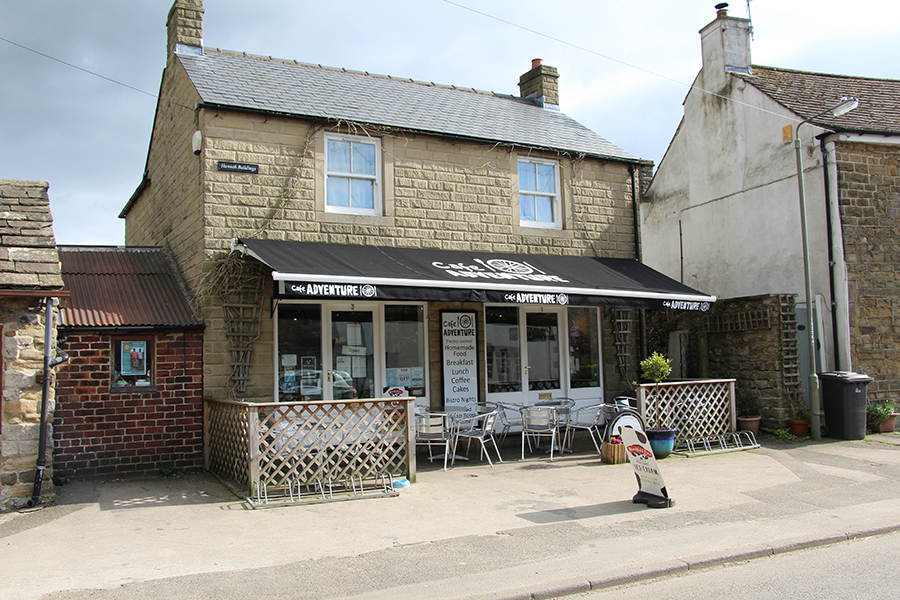 They have built up a very successful business which appeals to both walkers & cyclists and they hold a weekly cycle event on a Wednesday night which operates events for mixed and female cyclists. As Rachel explained the female only evening gives ladies the opportunity to ride at their own pace, not feeling the need to rush to keep up with the guys.
Both are familiar with the Peak District having grown up locally and offer advice to walkers and cyclists about route on which to enjoy their "Adventure". The café also displays mapped trails and has a walking/cycling corner with routes, local events and places of interest.
The small shop in the doorway offers customers the opportunity to buy cards, pictures, homemade pickles and other gifts to take home.
Both inside and outside dining areas offer seating for around 40 diners. As well as being a café Café Adventure hosts functions & events, and their Bistro Evenings every fortnight.
Being situated just off the main road through Hope means parking at Café Adventure is less of an inconvenience than for some other business in Hope, especially at busy times. However the parking is still limited.
Inside the café is pleasant, bright and clean. We sat at the far end of the eating area away from the window. We placed our order of quiche & salad for me whilst David opted for the Stilton & mushroom parcel & salad. Rachel brought through tea for two and sat down to chat with us whilst Billy held the fort, serving customers who were arriving for lunch.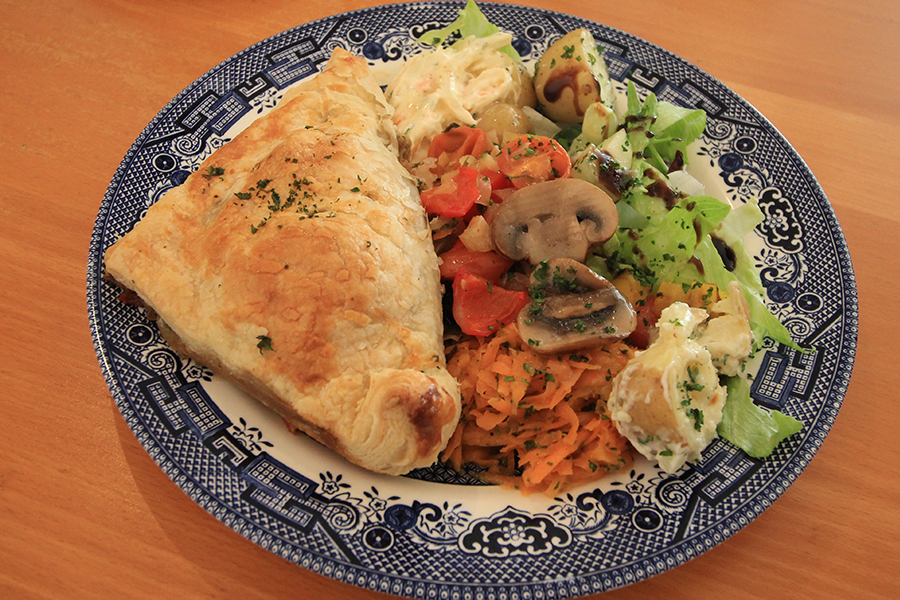 Both Billy & Rachel have a very pleasant demeanour and immediately make you feel welcome to café Adventure. We chatted at some length about their plans for the future of the business, an endeavour for which they both have great enthusiasm. Ever attentive to their customers the chat was interrupted by the regular arrivals of customers underlining the popularity of the establishment and their attentiveness.
When our food arrived we were impressed at just how nicely it was presented. No quiche with an apologetic side salad here. Our plates were filled with the most delicious fresh produce – mixed leaves, cherry tomatoes, a really nice roast pepper, onion and mushroom combo, new potatoes & a tasty potato salad. And for me a delightful first; grated carrot & orange. What have I been missing out on all these years!
And let's not forget the scrummy vegetable quiche!
The vegetable quiche was the perfect balance of filling to base. Quite often the pastry base is thick and heavy, this was on the contrary. The pastry was short and light, I only wish I could make pastry like that. 🙂 Whilst the quiche was brimming with filling and cooked to perfection.
As you can tell I really enjoyed my lunch it was tasty, fresh and just the right amount to fill you up.
David had the same with the exception of the quiche, having instead chosen the Stilton & Mushroom Parcel which he described as simple yet tasty with just the right amount of Stilton.
Café Adventure, Anything More To Say?
Café Adventure is a little gem of an eatery in Hope they serve great tasting, fresh food in a friendly comfortable atmosphere. I'm sure we will both be returning in the near future to sample the Bistro Night experience. BTW if you wish to attend be aware that they do get booked up quickly so make sure you reserve your table in good time.
You can find out about the café, its opening times and lots more on their website here.
Disclosure – We received our single course meal and a hot drink free of charge. No monetary payment was made for this review. Click here for more information about reviews