Choosing the right day pack is of course a matter of personal taste and based very much on what you do when you are out walking. The balance of a lightweight pack with enough capacity is important, as is how it fares in bad weather. I was sent an Aquapac Wet and Dry Day Pack to review just in time for the weather out here in the Peak District to get inclement. While it hasn't been a particularly wet autumn yet the Aquapac has seen a lot of use for reasons I'll outline below.
The Aquapac Wet and Dry Day Packs come in three sizes 15, 25 and 35 litres. They all had a sternum strap and all but the smallest an easily removable waist strap. I have the 25L version that when empty takes up very little space as there is little in the way of rigid structure. That contrasts to my previous day pack that demands a large volume of cupboard space when not in use.
Features include:
It's waterproof, though not submersible due to the clever top-opening design with twist-over seal and easy to use fastening clips.
Has breathable, quick drying shoulder straps
Two external mesh pockets big enough to take a water bottle
Internal pocket that's secured with a zip for easy removal. This consists of two pockets, the smaller of which is transparent to make it easier for you to find things. These are also made of waterproof material meaning you can keep your wet and dry clothes/kit separate if you need to.
A light lash on the rear
A reflective logo on the back to help make you more visible in low light
The back support is removable and can act as a seat for those pesky uncomfortable rocks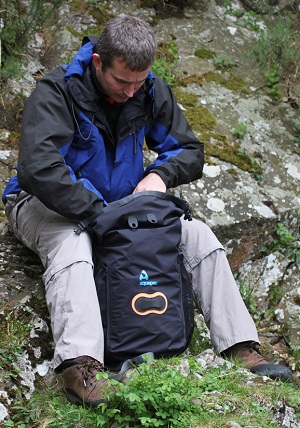 A soon as I used this day pack I felt at home with it. Being used to a more structured design my main worry was whether my camera kit would stick into my back as some of my larger lenses are bulky. However, I found it to be more comfortable than my previous pack. It's lighter too because of the economy of design applied to the Aquapac concept.
It's easy to wear, put on and remove. In fact it fits so well I never wear the waist strap, possibly because I have quite broad shoulders and the pack just feels comfortable and stable on my back because of that fact. One issue I have found with adjustment is that I seem to end up with a loop of webbing when I wear the pack high on my back – my hand gets caught in it! Not the end of the world and of course as I wear more layers in the winter that will change but worth noting.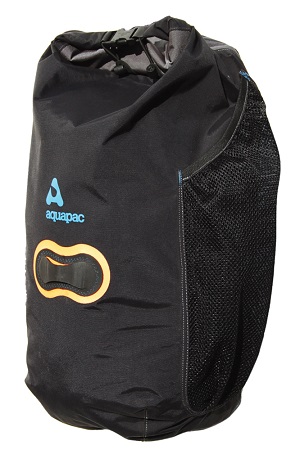 One thing I do miss from my old day pack is a lot of hand pockets, inside the main pack and outside to store various small items. Not having many pockets outside the main body of the pack in this instance makes sense as Aquapac's raison d'être is to protect your kit from the elements and external pockets mean more seals and more ways in for moisture. However internally I would have liked a better system of storage. Being able to unzip the pocket is great but I find the single large pocket is easy to lose things in and can pull on the pack's seal, distorting it making it difficult to roll over and close if you use it for a heavy items.
All that said the pros of a comfortable, light-weight and waterproof pack do outweigh the cons for me with the Aquapac Wet And Dry Day Pack.
I have to mention the removeable back support/seat cushion. A brilliant idea to keep the weight down and provide you with a comfy place to park yourself on a long walk.
Aquapac Wet And Dry Day Pack Summary
The Aquapac Wet and Dry Day Pack is lightweight, strong and of course waterproof, though not submersible! I'd have confidence in taking it out in the harshest of weather with my most treasured kit inside and that says a lot.
Yes, there are a few niggles that I've mentioned in the review but overall this is a nice piece of kit, compact when stored away and with some nice features.
You can read more about the history of Aquapac here.
Disclosure – This product was provided to us free of charge, Click here for more information about reviews